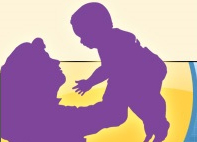 Early On® Michigan

Don't worry. But don't wait.

Concerned About Your Child's Development?
Call 989-269-3484
Nicole Lesperance, Coordinator
Huron ISD, 1299 S. Thomas Road,
Suite 2, Bad Axe, MI 48413
Should You Be Concerned About Your Child's Development?
Most parents wonder at times if their child is growing and developing like other children. If you think that your child's growth, learning or social skills are not the same as those of other children the same age, the sooner you check it out the better.
Each baby goes through developmental stages. Here are some tips to help you decide if you should ask for help.
By 3 months does your baby….
lift head and chest when lying on stomach?
show vigorous body movement?
show improved head control?
recognize breast or bottle?
coo-chuckle?
By 6 months does your baby…
sit with a little help?
roll from back to stomach?
support weight; bounce activity?
babble – more than two sounds?
hold one toy and reach for another?
By 12 months does your baby...
pull self to standing – may step with support?
pick things up with thumb and one finger?
put one toy in another?
give toy on request?
give affection?
follow simple directions accompanied by gestures?
say 2 or 3 words?
By 24 months does your baby…
kick a large ball?
turn pages of a book?
imitate housework?
ask for items by name?
use 2 or 3 words together, such as "more juice?"
recognize familiar pictures – know if it is upside down?
Early On® FAQs

What is Early On® Michigan?

Early On® Michigan is the system of early intervention services for infants and toddlers, birth to three years of age, with developmental delays and/or disabilities.
At Early On, we listen to you. Parents know what is best for their families.
You will find friendly, supportive and knowledgeable people who will talk to your about your concerns.
We can arrange for a free evaluation.
If the evaluation shows that your child needs help, we'll tell you how to get that help at little or no cost.

Who can benefit from Early On?

Early On serves babies and toddlers less than three years of age.

How are referrals made to Early On?

Referrals can be made by any concerned individual – parents, childcare providers, neighbors, doctors, service agencies, etc.

How do we start the Early On process?

Make a referral and schedule a developmental evaluation.
The evaluation can happen either at the Huron Learning Center or at your home, whichever is more convenient for you.
The evaluation takes about an hour and a half.
At the end of the evaluation, we will share with you whether there are any developmental concerns for your child which make your child eligible for Early On services.

When is a child eligible for Early On?

Children with an established medical condition that places the child at risk for a developmental delay.
Children with a 20% delay for their age in any developmental area (gross motor, fine motor, cognitive, social emotional or adaptive.)

Who pays for Early On services?

Early On services are part of Michigan's public education system.
There is no charge for Early On services.
Services are not based on income or other financial qualifications.