Some are left brained while others are right brained; learning styles can be visual, tactile or auditory. No two students are the same because no two children are the same.
Each child brings their unique development and abilities into a classroom with them. A student might have physical, social, emotional or learning conditions that prevent them from succeeding in school. When family members or school personnel have concerns about a child's educational success, Project Find is available to help.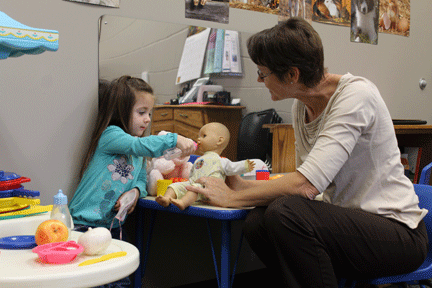 Jailie Schember is having fun with Karen Lupinski during her Project Find evaluation.
Project Find is available for all young people from birth to age 26. Project Find works to meet a young person's needs so that they can receive the best education possible. It starts with a free evaluation to identify specific conditions that may prevent the child from learning. When issues are identified, the public school system helps to find special programs and educational services for that student based on their specific needs so that the student can experience success in learning.
When a child qualifies, they and their family meet with an education team and an Individualized Education Plan (IEP) is started. There are many parts to an IEP, including the results of the evaluation, a listing of the student's current strengths and skills, measurable annual goals and short term objectives and the special education programs and services offered. Parents/guardians play a key role in all decision-making meetings such as those that determine the identification, evaluation, educational placement, reevaluation and the appropriate education of the student. Parent/guardians also must give consent for the initial evaluation and any other evaluations that follow. They receive regular reports on their student's progress.
Families may have many questions and concerns when deciding if they want to contact Project Find. They might worry that they are imagining a problem. The Project Find team is available to help and won't judge or demean concerns. If you're worried, there is no better way to find answers than by seeking help.
Families might also worry about what would happen if a child is put into "special ed." Would the student need to change schools? Will they be an outsider in their current school? Special education now follows the regulations of a least restrictive environment (LRE), which looks at the setting in which a student receives their education. The law specifies that students with disabilities are most appropriately educated with non-disabled peers in the general education setting. Attending special classes, different schools, or removing students with disabilities occurs only when the disability prevents the student from a satisfactory education in the general education environment.
If you have concerns about a child, there are a variety of ways to seek help through Project Find. If the child is enrolled in school, you can talk to their teacher, principal or counselor and ask about receiving a Project Find evaluation. For children who are not yet in school, contact the Huron Learning Center at 989-269-9274 with questions or concerns. Make a Project Find or Early On Referral. Always remember that when it comes to having your child evaluated, don't worry, but don't wait.