The Fifth Annual Thumb Area STEAM Showcase is Coming - Mark your calendar!
Cancelled for Saturday, April 18, 2020 10 a.m. - 3 p.m.
In keeping with Governor Whitmer's executive order banning all gatherings of more than 250 people, we are canceling the 2020 STEAM Showcase. Although the executive order will lapse before April 18, we have decided to cancel anyway in order to protect our students, staff, and community and to give our presenters as much notice as possible. When schools re-open, we will contact businesses who have already donated to discuss options such as returning the money, applying the donation to a 2021 Showcase, or finding other ways to support STEAM education in our community. We thank everyone who supported the STEAM Showcase, now and in the past. Please stay healthy!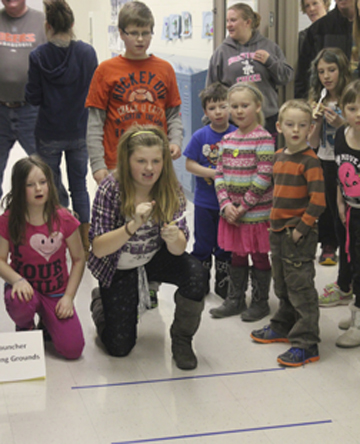 A community festival celebrating Science, Technology, Engineering, the Arts, and Mathematics
2020 Flyer Coming Soon Schedule of Attractions Coming Soon
Contacts:
Scott Whipple 989/269-3481 or 989/550-0003
Jennifer Trusock 989/269-3476
Tyler Leipprandt 989/269-3494
Vicky Erdman 989/269-6406
The STEAM Showcase features a variety of exciting "edutainment" activities for all ages and is FREE to the public.
2020 Sponsors (updated 3/4/2020)

In order to keep the Showcase free while providing high-quality exhibits, we offer leveled sponsorships. Call (989) 269-6406 or email any of the contacts above for more information.

Diamond ($20,000+)



Platinum ($10,000 - $19,999)



Gold ($5,000 - $9,999)



Silver ($2,500 - $4,999)



Bronze ($1,000 - $2,499)

Agri Valley Communications, Inc.

MiSTEM Region 11


Copper ($500 - $999)

Valley Enterprises Ubly, Inc.

Booms Construction

Gemini Group Inc.

Lynda J. Pietscher Memorial Children's Art Fund



Green ($1 - $499)

Thumb Bank and Trust

Thumb Energy Services

Team One Credit Union

Ordus Ford Lincoln
School Showcase
The Thumb Area STEAM Showcase is looking for projects, displays, and presentations from local schools that showcase the excellent STEAM activities being done in districts across the county. Classroom teachers, leaders of projects or clubs, or any school group related to science, technology, engineering, the arts, or mathematics can apply.
Thumb Area STEAM Showcase was formally known as Embracing Our Earth Festival. For a quick peak of the past event, enjoy this video.